Celebrate New Year's Eve in Dubai 2023,
Enjoy New Year's Eve Dubai, New Years Eve Party In Dubai, Spectacular New Years Eve Firework Dubai, New Years Eve Beach Party Dubai, etc – If you haven't done it already, it's time to start planning for the best New Year in Dubai celebration ever and book your flight and accommodations, readying yourself for Dubai new years eve.
The city is known for its unmatched, spectacular NYE extravaganzas and from year to year is sure to be exceptional, with the festivities outdoing any the emirate has experienced in the past, complete with big named celebrities, live shows and plenty of special effects, and upscale events.
New Year in Dubai – and Fireworks
The downtown New Year's Eve 2015 Dubai celebrations are expected to draw over a million visitors to the city to celebrate the New Year in Dubai with a huge variety of entertainment choices. The cultural highlight of the evening will combine Dubai's multicultural perspective while at the same time celebrating the beauty of the Arabian heritage. Artistic and live dance performances known for their aesthetic richness, as well as an incredible video montage that showcases the UAE's cultural diversity and legendary accomplishments, will set the stage for the magnificent finale; the visually stunning fireworks show atop iconic Burj Khalifa, the tallest building in the world.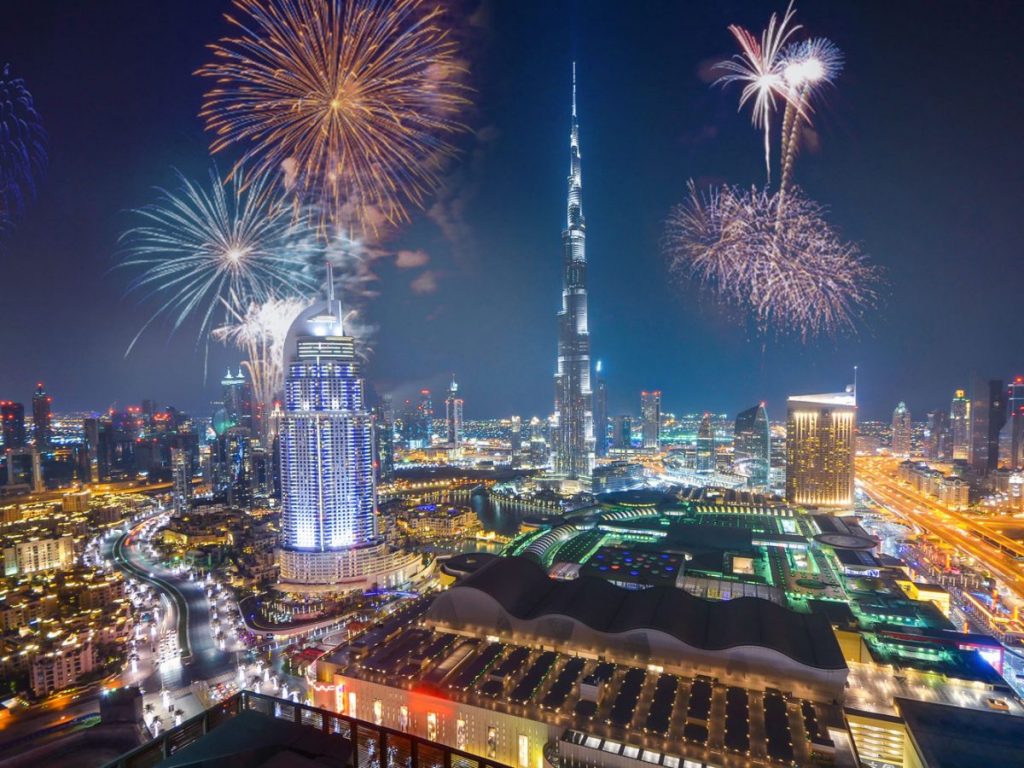 Explore the Beauty of Dubai with the new year celebration at Desert Safari
Dubai has been known as the "City of Gold." Visitors are always amazed to see the displayed jewelry for it is only in Dubai that one can see that much gold. The sparkle of the jewelry at night adds splendor to this rich city. But gold is just one thing Dubai could excellently offer because tourists do not go out of Dubai without experiencing a desert safari.
Dubai desert safari is the most popular excursion that offers an adventure for a lifetime. It's just like experiencing paradise with a touch of ancient history in a modern era. It's simply taking a deep breath under a sky that is full of stars. It's just taking a journey that everybody hopes to be forever.
This Dubai desert in safari is action-packed. Imagine yourself being excited to wake up from a hotel to be picked up for a drive across the desert of Dubai down to the camel farm where you can enjoy a camel ride after being stunned by a beautiful desert sunset. Do you see yourself riding the rolling sand dunes and taking pleasure traversing Dubai's golden sands with multiple stops over in a number of unique desert camps for picture taking? Try to feel that when your eyes are filled with amazement by the calmness of the desert at night you are able to smell the aromatic Arabic coffee while eating fresh dates offered by women in traditional costumes. Your excitement would even be greater when you experience the art of painting traditional henna designs on your hands and are mesmerized by the famous and heartbreaking oriental belly dancing. Then at the end of the day savor a sumptuous dinner before going back to your hotel. Really, Overnight Desert Safari in Dubai is definitely a wonderful experience you will surely never forget.
Dubai desert safari is more than just exploring the beauty of nature and its people. It is experiencing the best life can offer coupled with a lasting memory that anyone could not afford to miss.
An experienced tour operator will make this dream of experiencing a Dubai desert safari a reality. Armed with logistics and a proven excellent schedule, your Dubai desert safari would be hassle-free. It is important that you will not miss a single thing in this stunning adventure for a time that could no longer be brought back and definitely, memories could not be repeated.
Try this wonderful opportunity by visiting Dubai and for yourself to discover the exceptional experience of joy within the city of gold.
The majestic Burj Khalifa (2,716.5 feet tall), is the centerpiece of downtown Dubai. As in previous years, New Year's 2023 Eve celebrations in Dubai will be focused on the incredible building. Thousands of visitors and residents alike will gather there starting at 5:00 pm, hoping to have the best vantage point to enjoy the pyrotechnic magic that will be taking place at midnight, a glorious way to welcome the New Year in Dubai. The countdown more than likely will be displayed on big-screen TVs as well, located in various places in Downtown Dubai so everyone will have a chance to witness the fireworks, a magnificent display that will be choreographed to an exclusively composed musical arrangement that integrates both World and Arabic music.
Beautiful Nasimi Beach will also be holding their annual Dubai New Year's 2023 Eve beachside bash at the Atlantis, the Palm, between 3 pm and 3 am. Another great place to celebrate NYE in Dubai is Meydan which hosts the Middle East's biggest music festival showcasing legendary music icons from all over the world.
The Blue Marlin Ibiza UAE is the place to bring in NYE in Dubai if you're into magical sunsets and exceptional dining experiences right on the beach. Imagine enjoying a delicious 5 course Mediterranean meal prepared by talented chefs as the sun sets, complete with music, and a fantastic variety of drinks; an exceptional experience. For a New Years Eve experience that is a little more laid back, there's the Irish Village that offers plenty of good old fashion fun