Advance Pack Hummer Desert Safari Dubai
Availability: Yes
Duration: 6 Hours
Starting Time: 3:00 pm
Ending Time: 9:00 pm
Instant Confirmation
Printed Voucher Accepted
Free Cancellation 6 hours
From AED 350
AED 250
Save AED 100
My cousin who has been to Dubai several times calls the Arabian city the Las Vegas of the Middle Eastern world, and as soon I got there I knew exactly what she meant by that… From eating at world-class restaurants, visiting the world's tallest building Burj Khalifa, to skydiving and speed boating, Dubai, like Vegas, provides tourists with a plethora of fun activities! My cousin had earlier booked Dubai Tour packages with CliftonTours and was pretty satisfied with it. Hence, taking her word for it, I went ahead and booked a Hummer Desert Safari Dubai. I planned a whole week of incredibly fun activities for me, but the one that I was really looking forward to was the desert safari and Hummer dune bashing…
On this one-day desert safari tour, I will take a thrilling Dune Bashing Hummer to drive through the rich golden deserts of Dubai and stop at an Arabian campsite where I would ride camels and quad bikes, go sandboarding, get henna tattoos, enjoy a lavish Emirate dinner, and watch a belly dancing show. With all such amazing activities for one day, you can see why I was super excited for my Hummer Desert Safari Tour in Dubai, right?
On the day of the tour, I picked out my Desert Safari Outfit and waited for the driver to pick me up from the hotel lobby. Don't ask me what was the outfit :p … I just wanted to look cute and comfortable for the photoshoot I knew I would have that day! At the exact time promised, I got a call from my driver who was waiting for me outside the hotel in a lush-push Hummer H2. The tour company's guide, Ahmed, accompanied me on my trip.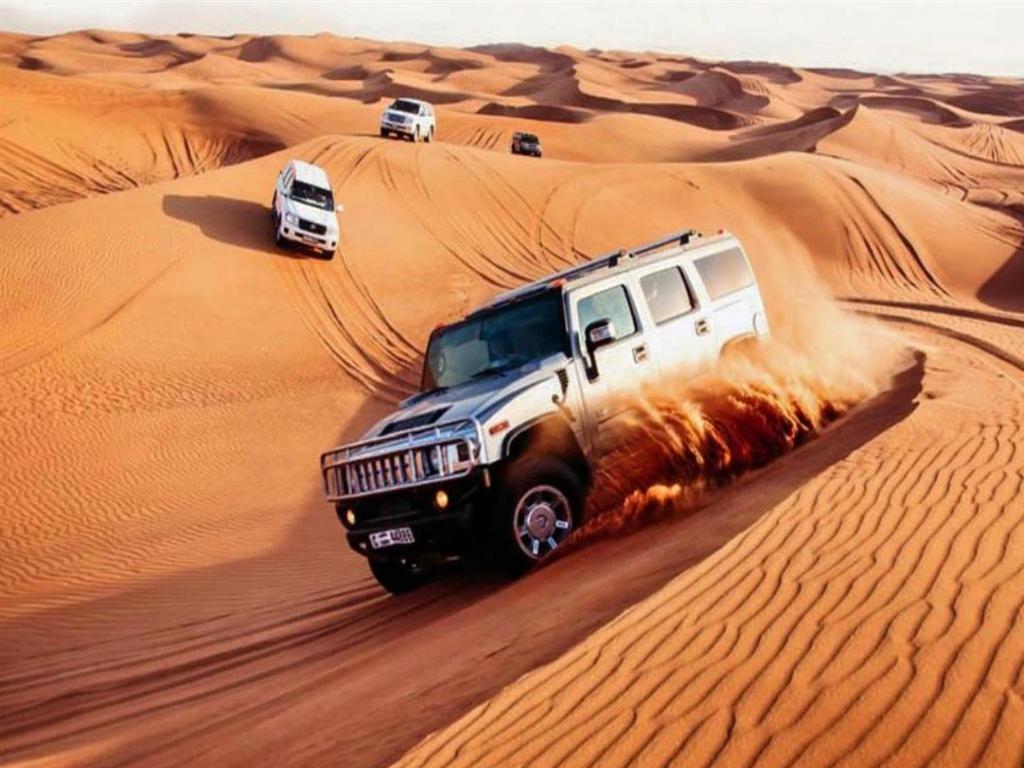 During this 30-minute drive, I noticed that huge skyscrapers and elevated structures of Dubai gradually fading away into golden desert sands. I reached the desert early afternoon where we remained until late in the night, and surprisingly, this Hummer Desert Safari was above and beyond my expectations – becoming one of my favorite fun activities in Dubai.
My First Driving Experience With A Luxury Hummer H2:
It was the first time in my life that I was experiencing the drive of H2. It was enormously spacious from the inside, offering an ultimate taste of luxury with its comfortable seats, offering wide-angle best perspective views of the desert from its windows, and a very smooth drive. This bad boy is perfect to survive a desert expedition… And as an all-terrain military vehicle, the H2 is purpose-built to perform exceptionally great in a sandy place! Another amazing feature of this ride was that we don't have to take shortstops for the driver to step outside the car and manually adjust the tire pressure. When the dunes got really deep, I noticed the driver reducing the air pressure from those huge 37-inch tire right from the cab by using the Hummer tire inflation system!
For anyone heading here, I would definitely recommend a desert safari by CliftonTours – Here in my Dubai tour blog post, I will share some best tips before signing up for Hummer Safari booking, what to expect, and a few special tips before heading out on this remarkable adventure!
Got My thrills With The Dune-Bashing Desert Safari Ride in Hummer H2…
Dune bashing is just driving around the sandy desert, cruising up and down the dunes, but when on a Desert Safari Tour in Dubai, you do it in the craziest manner possible! The dune bashing session starts minutes after the driver cheers up the environment with loud music and asks the tourists to buckle their seat belts and GET READY. The ride feels no less than a roller coaster both in the thrilling excitement and in that fun little dread of "Woo..hooooo"! The ride in the Hummer is taken care of by the expert guide and driver, so you don't really have to worry about anything – just leave everything to the professionals of your tour company.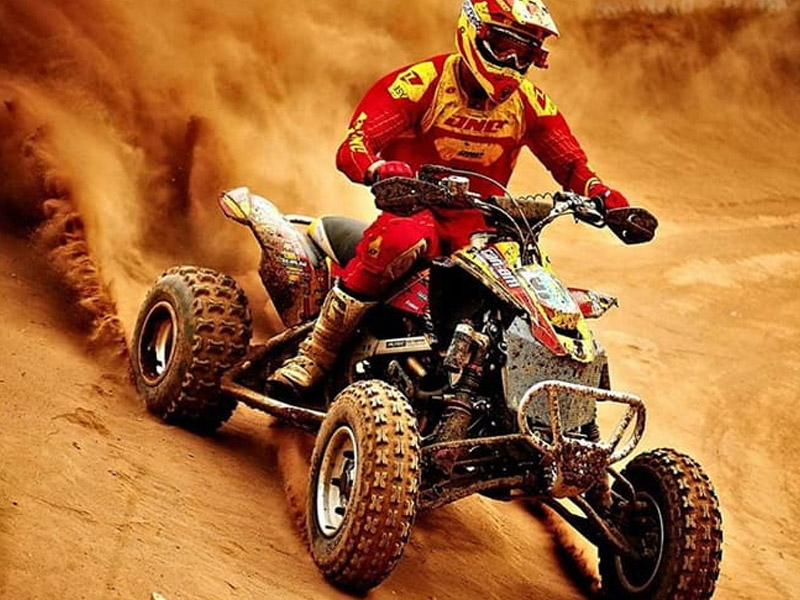 A Short Camel Ride in The Desert … Totally Worth It!
We headed to a Camel Farm in the desert, and I got my hands on one of the white camels. The camel safari ride lasted for five minutes, with the camel walking in one big circle. Although I would have liked a longer camel ride, Yeah! this one did satisfy my curiosity enough. If you love to extend your Camel Safari Ride duration, there are different packages that offer that, but in a Desert Safari Package, the tour operator gives much preference to dune bashing, camping, and dining entertainment.
Trying Sandboarding For The First Time and Going Down Steep Hill Slope Like A Pro…!
I tried snowboarding years ago, and this time I was really excited to get my hands on Desert Sandboarding. Our guide took us to some of the highest and smooth sandy hills and gave us a short briefing about sandboarding. I just grabbed a board, strapped myself in, and went sliding down the steep sandy slope … It was Epic Fun! Since I don't have the heart of a lion, so I didn't walk too far up the slope – I just launched myself from halfway up the slope and allowed gravity to push me down.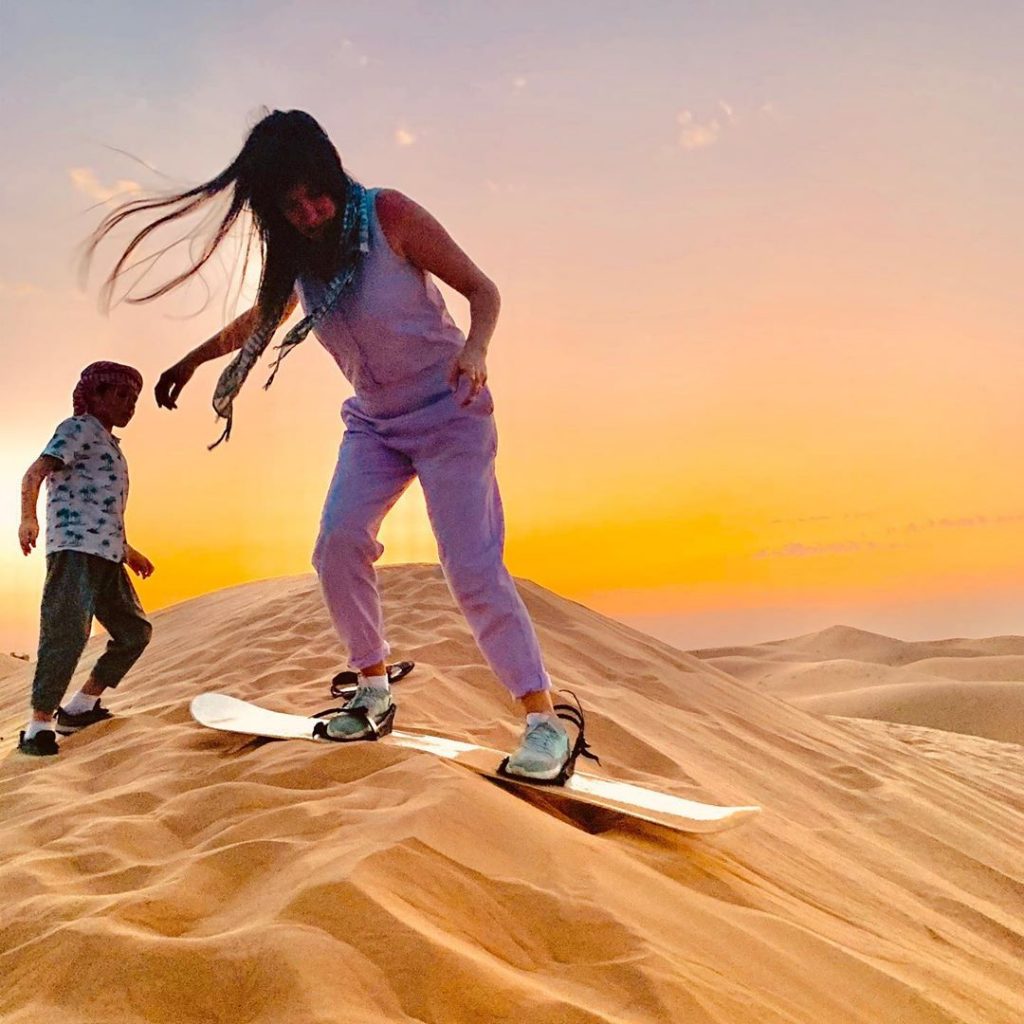 Watching The Sun Disappearing Behind The Sand Dunes In The Distance…
There is something amazingly beautiful about watching the sunset over the Dubai desert. Despite the fact that I was surrounded by many other tourists, I found a sense of contentment watching the sunshine up the sky with strokes of pink and purple until it vanishes behind the sand dunes in the distance. Daydreaming in my brain and simply gazing at the nothingness of the desert was truly a lovely change in contrast with the man-made city we left behind. The desert sunset was certainly one of the major highlights of my Hummer Desert Safari Package.
It Got Really Cold At Night… I Wish I Could Have Brought A Light Jacket With Me!
Remember that perfect outfit I picked out before heading for Hummer Desert Safari in Dubai? All this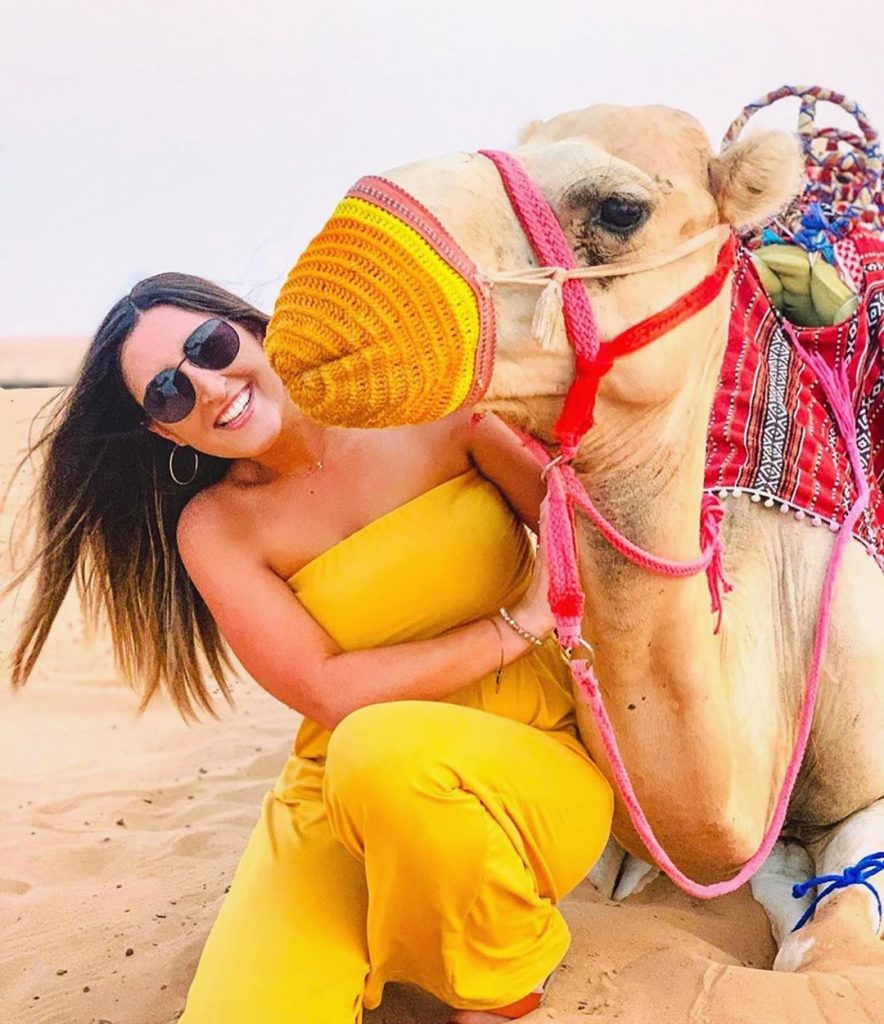 NGS considered it turns out they weren't so perfect… I was wearing a short-sleeve shirt on jeans, which was perfect during the day and I clicked some amazing selfies, but as soon as that lovely sunset was over, I was literally shivering with cold – however thanks to the campsite bonfire for providing heat to my body!
I would advise everyone out there that desert warmth just keeps going as long as the sun is there to ensure you are carrying a light coat or a full-sleeve hoodie with you.
A Plethora Of Activities At Desert Campsite… Hummer Desert Safari Dubai
Adventure Couldn't Get Much Better Than This!
As the sun descended, we sat back in our Hummer H2 and head to the campsite, somewhere in the middle of the Arabian desert. The campsite gave a true feel of Emirati Culture, with Arabian rugs and cushions beautifully completing the perfect Aladdin-type look. There was free henna art for women, followed by a delicious dinner about halfway through the night. The Belly Dancing show and shisha smoking that comes afterward the dinner was highly entertaining.
Some Special Tips For Hummer Desert Safari Tourists:
My activities and meal were included in my package at the same price as the safari, so I wasn't carrying much cash with me that day. However, I would advise bringing some cash with you, because when I saw the beautiful Arabian rugs, clothes, and souvenirs they were selling at the campsite, I regretted not bringing money with me.
There are some additional activities that you can include in your Hummer H2 Safari Package at a small cost. You can include ATV Drive, falcon photography, or give some extra tips to the tour operator for complete DSLR photography on your complete trip.
The desert temperature drops significantly at night, so make sure you bring a light jacket or sweater with you.
So this was all about my own experience with Hummer Desert Safari Tour. I hope this blog post here would have helped you a great deal in booking your Hummer Safari Package with the best tour operator in UAE. Thanks for reading – Bye!