The United Arab Emirates celebrates its UAE national day annually on 2nd December. Their national day represents the unity among their other states which actually marks the joining of seven emirates. It is the sign of nationhood and a symbol of their independence from the British protectorates which united the six emirates in 1971.
Celebrations in Emirati Culture:
Every Emirati citizen has planned the activities of the country's special day. On their national day, a public holiday of 2nd & 3rd December is declared all over the country. All emirates are warm-up for the celebration of their national day in traditional Emirati culture ways. The setup for celebrations of heritage village on a national day is starting in the last days of November. The colors in the flag of UAE are symbols of unity, fertility, economic strength, and seven Emirates. Here are some cultural activities on a national day are follows: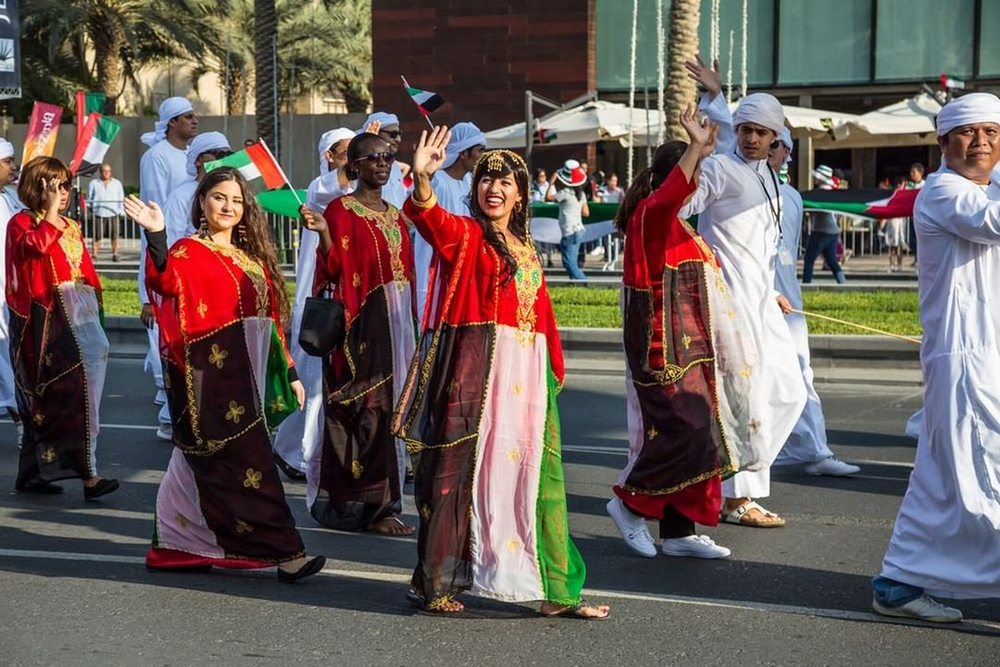 Emirati culture experienced on the night of 2nd Dec:
Firework and flag hoisting events:
A great firework on the night, people anticipate seeing live firework. Especially Dubai and its capital Abu Dhabi is lightened and brightened with fireworks. Top places where a massive firework is watched at La Mer, Beach Jumeirah, Al Seef, Festival city Dubai. People come from different parts of the world to watch this show as tourists by using different travel opportunities like Clifton Tours etc.
A massive crowd of people is coming to see the show displaying the flag on the tallest structure in the world, Burj Khalifa which is held on the night of national day.
Most the residents of the United Arab Emirates is usually expressing their culture while Dress up the Colors of the National Flag of UAE.s
Native people used to celebrate this day with their decorative homes, shopping centers, malls, streets, institutions, and cars to celebrate joy. Palm trees in the streets are also decorated with flags colors twinkling lights.
Flags are waving on all public and private buildings.
Stadium Show and Global Village:
A program is held in the capital Abu Dhabi, Zayed Sports City Stadium where a crowd of people wearing traditional dresses comes from different areas of UAE to celebrate the highlight of noble values of UAE history. Where tell some noble stories to people for memorizing the pride and sacrifices of their national leaders. They tell the people about their determination, inherited patience.
Event of Global village celebrations are held by the Emirati independent singers where people entertained by shopping stalls, venues of food in Global village
Emirati culture experienced on the UAE National day of 2nd Dec:
National parade:
A UAE national anthem is recited at the beginning of the national day. A national parade is conducted and people are keenly anticipated in the parade. The two most popular areas for the great parade is watched are as follows:
First is Police Marching Band at Al Seef
The second is Themed Circus Parade UAE at Dubai Parks & Resort.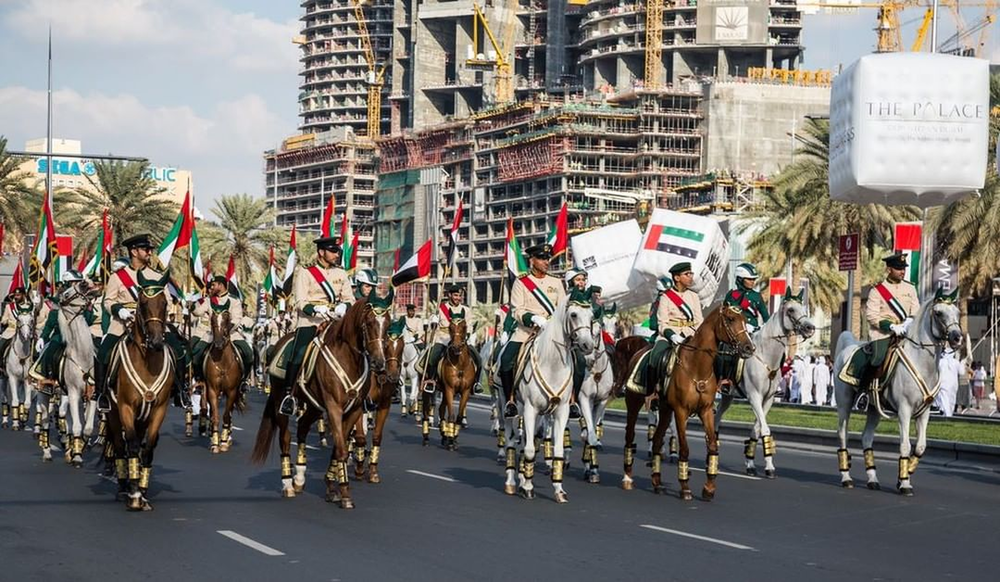 Shows and Live Performances:
Air shows are held by military processions on a national day is very important. This is conducted at the National Exhibition Centre, Abu Dhabi. The audience includes citizens of the Emirate, Emirates rulers, and federal members of the national council.
Dance performances of talented bands Ayala and Garbiya at different emirates of UAE are performed. Shows of live merchants are shown by the waterfront at Al Seef. Where small ornaments and cloths are sold such as caps, pins, and flags.
A Camel Race is held at Al Marmoom racing track of camel which keeps alive their culture. It is almost 30 minutes long.
Royal Shaheen showcase is a national bird event is held on UAE national day.
A folk dance which is called Ayala Dance, a celebratory symbol is performed on Dec 2nd. It is the inspiration got from Arabian folklore. In the traditional dance, men stand in two equal parallel lines, linking their arms and waving the sticks on a rhythmic beat. Ayala Dance is often performed at the national parade in shopping malls to show their culture. It is specially performed at JBR (Jumeriah Beach Residences) on a national day which is free of cost event.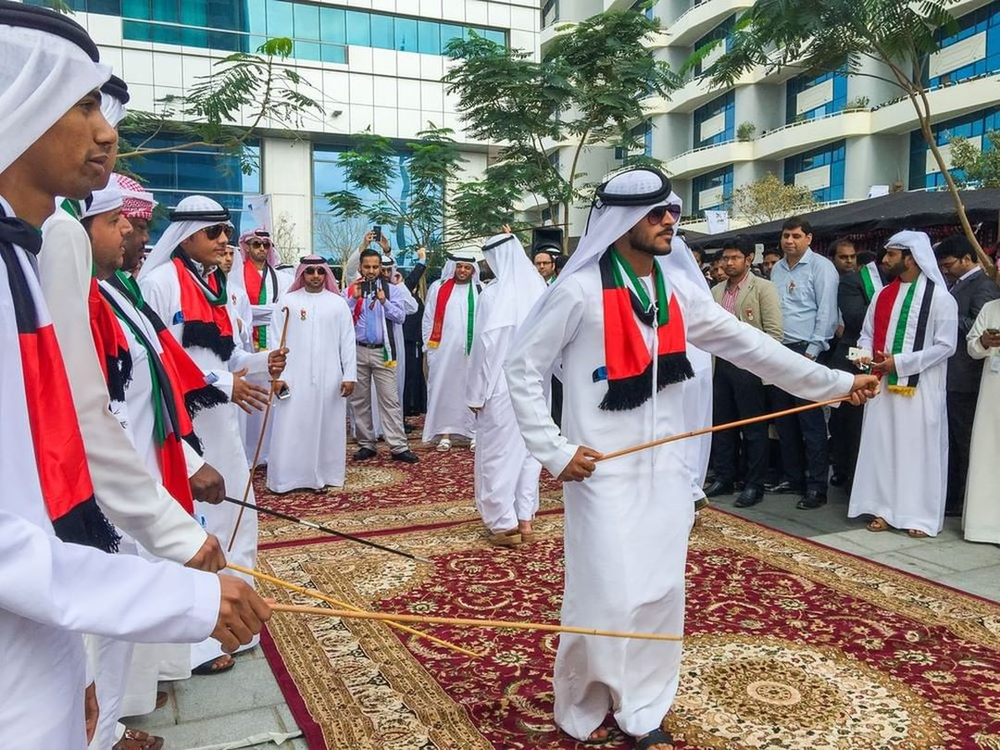 Multiple cultural programs are held across the mall of the UAE. Where traditional Emirati Arabic music is played by an excellent band of Emirati musicians. In these programs, there were be many stalls of special cultural dresses of Emirate.
Cultural Historic Places:
People use to visit Etihad Museum where history and national pride are displayed for tourists. People come from various parts of the country and world to visit this historic museum.
Religious people go to their religious places to thank God for giving them independence and unity. Muslims visits Mosque like the Jumeriah mosque which includes Islamic traditions.
Many people revisited Al Fahidi Fort to keep the alive culture.
Emirati Cuisine on UAE National Day:
Emirati cuisine is cooked on their national day especially the stalls of Arabic Coffee are most important and eye-catching for people. Various traditional Emirati Arabic cuisines of the United Arab Emirates are also prepared at home and in hotels. Seafood, lamb meat, rice are marketable foods. Famous beverages are camel milk, Laban, tea, and special Arabic coffee flavors of mint, saffron as well as cardamom. Dates, Camel meat Shuwaa, Harees, Kabsa, and Aside are included.
Car rallies are conducted and many children show under the age of 15 are also enjoying the joys of national days at children's city. Their children can explore their cultural events in the form of educational knowledge, dancing, and traditional cuisine. Art and crafts shows, face painting and drawing of national flags competitions, concerts of live performances at La Mer with the great firework and Burj parks are held across the country is the best cultural activities on a national day of United Arab Emirates.
A very rich culture is displayed at the UAE Heritage Village. In the heritage village the traditional dancing, camel rides, Arabic music, and falcons are enjoyed by the UAE citizen crowd.
Loud Arabic music is pumped out in the streets of UAE from the heavily beautiful flags decorated cars and several people are excited to spray the foam from the car's windows. Breakwater roads are packed the cars and vehicles of enthused and patriot people in the afternoon of 2nd Dec. hence a rich culture of UAE is observed on their National day.