Dubai is a city that is famous for its sky scrappers and indoor activities, a city that never sleeps. It is a city famous for its fun-filled activities. This city has become an oasis in the wilderness. It is a land of fantasy that attracts thrill-seekers and those who prefer a high dose of adventure and mesmerizing experience to add their travel diaries. Leave the chaos and crowd of the busy and happening city behind you and enter the world full of amazing experiences. Get yourself ready for the exciting journey for whatever Dubai Desert Safari you want to enjoy, from pick up from your location in a luxurious 4 wheeler SUV or land cruiser. Come and have fun for the most electrifying and thrilling experience once in a lifetime.
Dubai is a city with one of the most modern and prosperous in UAE. The city has a border with Abu Dhabi in its south, in the north of Sharjah, and the southeast Sultanate of Oman.
 Below are some of the most important things about Dubai Desert Safari that you must know before you fly for your most incredible destination in the world.
Dune Bashing
Dune bashing is the ultimate experience to do in a desert safari. It is an experience in which the vehicle moves with the increasing and decreasing speed over the immense desert. As we know, the desert's surface changes due to the dust storm, so it needs special skills and special vehicles to navigate the terrain.
How Dune Bashing Starts
Experience of dune bashing starts when you are picked up from the location. As you enter the desert, you will witness the glory of the amazing desert. You will stop at a point where the drivers will deflate the cars so that you have a feeling of the roller coaster and here starts the experience of dune bashing.
The skilled and licensed driver will climb up the cars at dune and will suddenly give a mad fall which will give you whoops of delight. You must wear your seat belt. It's mandatory to make sure that you lock your children's seat belts correctly. The drivers speak English fluently to have no issue while asking questions and knowing more about dune bashing.
The dune bashing ride is for about 40 minutes to one hour. You will have the best time while you are enjoying the bashing experience. The vehicles travel in the form of a convoy. They stick close so that they can easily perform amazing and breathtaking stunts.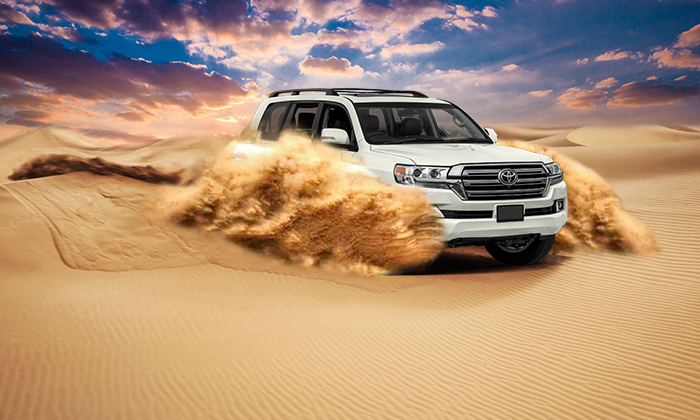 Dressing code
While you are enjoying dune bashing, you must wear a comfortable dress. It would be better if you wear light clothes like Shalwar kameez, Kurtis and jeans for male members to wear shorts and t.shirts or even kandhura. Wear something reasonable that helps your feet breathe and protect them from the sand.
Best Time For Dune Bashing
As the weather gets better in Dubai, the flock of tourists visits the city to enjoy the dune bashing in the amazing desert. The best and ideal time for doing dune bashing is around the sunset so that you can enjoy the amazing dull gold ray of the sun. Click as many photos as you like to jealous your friends and family.
Best Place For Dune Bashing
Dubai is famous for lots of activities, but tourists and residents are more attracted to the dune bashing. There are lots of places where adventurous bashing takes place in Dubai.
Here are some of the places where you can enjoy the fun-filled dune bashing.
Morning And Evening Dune-Bashing
Many people love the view of dawn. Here is a chance for them to enjoy the sunrise while you are in the mid of the desert. Enjoy the cool breeze in the soothing view of the desert.
Most of you like the view of the sunset. You can opt for this adventure with dune bashing in the immense desert. Enjoy the thrilling rides in our sanitized SUV while the sun is setting down.
 Premium Dune-Bashing
Leave the hectic and monotonous life behind you as you enter the world of thrilling and exciting dune bashing. Mesmerize yourself with the amazing view of the sunset. Click photos of yourself while you are in Arabic attire. Enjoy the fantastic sandy hills in this desert safari.
Red Dune-Bashing Dubai Desert Safari
Enjoy the amazing red sand while you are enjoying and dusting the sand in dune bashing. Click the photos at dusk to make this a lifelong memory.
Camel Ride: Camel Racing in the UAE
Camels are an essential part of Emirati culture. In the past, camels were called God's gift for the Bedouin. The animal made life easier as they are used for riding, food, and transportation. Camels are considered ships of the desert. A few decades ago, Dubai was nothing like now, and life was tough and harsh.
Importance of camel
Camels were a source of food, transportation, and wool. In back those days, the Agals (the black ring that Arabs wear on the headdresses ) were made from camel wool. Nowadays, camels are the symbol of local culture and an attraction for the tourist who eagerly wants to visit Dubai and ride on the roller coaster ride of the camel.
Camel Race And Its Significance
Camel race holds a significant part in the adventure of desert safari in UAE. Today, the camel race is the richest race ever in the world. People from different parts of the world come to see the race, and the winner takes a nice and great amount back home. In the race, camels and their owner take part not only from Dubai but also from other neighboring countries like Sharjah, Oman, and Saudia Arabia as well.
Best Time for Camel Race
As the weather gets better in Dubai, the flock of tourists visits the city to explore the thrilling and adventurous experience. The ideal time for the race starts from October till April. There are minor races in the off-season, but tourists mostly like to visit and enjoy the camel race in the winter season.
If you are planning to visit in these months, do bring your binoculars to the race so that you can enjoy the camels running in the massive desert. Recently the management has started buses for tourists that move adjacent with the race track for a better view.
The Day of the Race
On the day of the race, there will be two racing sessions. The first starts in the morning between 7 to 9 am and the second starts in the afternoon after 2 pm. There will be around 15 to 60 camels in a single race. All the camels are in bright color dress as the mark of identification. With the sound of a whistle, the race starts, the trainers and owners follow them in SUV.
The audience uses binoculars to witness the race, whereas big screens in the race area also show close views of the race. The audience can travel in buses to see the race and enjoy the clear picture of the race. The race finishes in about 10-15 minutes, covering 10km.
Falconry: Everything You Need To Know
Falcon is the national bird of the UAE. They hold a high position in UAE, as you can see the picture of falcons on their currency, signboard, and other national monuments. No doubt, falcons are the most incredible animal on the planet. Falcons are one of the fastest birds in the world. Falcons and Falconry were entwined with the Arab culture for many years, as they have been an integral part of a Bedouin who lived for many years back. It is not clear how long Arabic culture started.
Importance of Falconry
It is to be said that the history of falcons is about 4000 years old when the Arabs used the falcons for hunting. Falcons are the symbol of courage, honor, pride, and nobility. Falcons are the only birds who can access the airplane and can enjoy the luxuries of first-class and business class. The importance of falcons has increased so much in recent times that Dubai has established two hospitals to take care of them, and falcons can be regularly examined for the betterment of falcons.
Kinds Of Falconry
As we know that falcons hold a lot of respect and prestige in emirates, these magnificent creatures azure tamed to perform some unreal feats. Falconry is presented with various methods to add to the thrill. Generally, it has the following kinds :
Traditional Falconry
Traditional Falconry is one of the most common kinds of Falconry, showcased in most desert Safaris. These falcons depict the rich Arab culture magnificent combination of flying and hunting is visible in these shows. Later the birds get a reward of their favorite snacks. People love taking photos with the Falcons
Modern Falconry
This kind of Falconry involves modern era training and equipment like drones. Being hi-tech in nature, young spectators especially adore these techniques. At times the shows involve a mix of traditional as well as modern techniques.
Bedouin Falconry
This kind of show is performed by an Arab native in the Al Marmoom Desert, which involves some particular Falcon breeds. Being a specialty show for Arabs, it is unstructured and hence provides an opportunity of asking Questions by Spectators.
Exclusive Falconry
Falcons depict Arab culture and bravery. These shows involve some finest breeds of traditional Falcons and exclusive, luxurious experiences.
Different Ways To Enjoy Falconry
While staying in Dubai, experiencing different kinds of desert safari, here are some of the ways to enjoy the Falconry.
Small-group Falconry
This desert safari experience is all about focusing on the wildlife animals that are the key to landscapes. Fly the falcons from your hands to enjoy this experience.
Private Desert Safari Tour
Avoid the hustle-bustle of groups and choose the private desert safari to enjoy your falconry experience by opting private desert safari. Enjoy the falcons sitting on your arm and click photos as many as you want.
Evening Desert Safari Tour
Enjoy the evening desert safari with falcons while the sun is setting down, enjoy the 90 minutes like never before. You will get a chance to be with a professional guide and falconers.
Hunting the Falcons
In Dubai, hunting the falcons is prohibited. If someone is caught doing hunting a falcon, they will be fined heavily.
Henna Tattooing: Interesting Facts You Need To Know
Having its roots in Persia, Arabic henna designs are now famous all over the world. The art of Henna originated about 5000 years ago, and some claim that it was 9000 years ago. In the Arab world, Henna is the symbol of love, sensuality, and good luck. Henna has a lot of medical properties as well. It helps to relieve headaches, fever, and stress. This is one of the reasons that brides apply Henna to relieve them from stress. It also has high antiseptic properties.
Henna As A Sunblock
Henna also works as a natural sunblock. It helps to relieve the effects of heat. In early times henna was also put on the body to protect yourself from the sun rays but also helps to make skin smooth and fresh.
Henna As A Natural dye
Henna is also a natural dye for hairs. It also helps to give your hairs a reddish-brown dye which is natural. In earlier days, Henna was used to apply under the feet and on the palms to relieve them from the heat in the summer season.
Interesting facts of Henna
Henna is derived from a plant called Lawsonia inermis. The leaves pass through the procedure of drying and crushing leaves into fine powder. Queens used to paint their nails and dye their hair. No doubt, the queens of Egypt were the fashion divas of that era.
Religious and Cultural significance
Henna is famous and has religious significance in every religion. Each religion has its occasion when women and girls apply Henna on their hands and some time on their feet.
Henna is also known as Mehndi in Hindi and Urdu. It also has great importance all over the world. It is also said that the deeper the color of Henna, the stronger love between two individuals. Some say that the deeper the color of Henna, the more mother-in-law will love the bride.
Henna, an ornament
Henna is also an ornament for ladies all over the world. Each one has a different mood, nature, perspective, thinking, but each individual wants to apply Henna on their hands and feet to look beautiful. The first choice of every woman is Arabic Henna Design. As they are trendy, unique, and more liked by this generation. Henna is purely organic and safe to use, but if you have any kind of skin issue, you must check Henna first before applying.
Sand Art: Sand Art Bottle Dubai Desert Safari Popular Souvenir
While you are in the city that never disappoints you, you think of fun-filled activities. Book a tour for desert safari and enjoy the fun-filled activities. Click photos of yourself in traditional Arabic attire to make them memorable for life long. Shop for the souvenirs, don't forget to buy sand bottles or sand art. Sand art is the most popular handmade souvenir and also famous among tourists. They purchase and even want to write their names on the sand art bottle to make them memorable throughout their lives.
History of Sand Art
We are not sure from where it is originated, but it is said that it derives from India. Sudarsan Pattnaik is an artist known as the inventor of sand art. He was so talented that he learned sand art of his own and started practicing at the age of 7.
It is also said that this kind of art was originated in the USA in the 1860s to 1890s. The artist Andrew Clemens was a mute artist, he got fame from unfixed pictures with colorful sand that is compressed in small jars. However, the art of sand bottles comes to Dubai from the people living in a different part of the world.
Ready-Made Sand Art Bottle
You can purchase the sand art bottles from the shop present at the campsite for their valued customer. Here, you can find ready-made sand art bottles. You can ask the shopkeeper to paint your name on the bottles. But if you want to make it of your choice, you can customize the sand art bottles. You can choose the sand color, scenes, or even you can print whatever you want to print to make it memorable.
Sizes of Sand Bottles
While you are enjoying the desert experience and you want to purchase sand bottles, there are three sizes available. Small-sized sand bottle, you can engrave a single name on this bottle. It is reasonable. In this kind of bottle, you can engrave two names in a medium-sized sand bottle. The couples who visit Dubai for their honeymoon, mostly purchase these sand art bottles. In the large-sized sand bottle, you can engrave three names in this bottle of sand. It's a bit expensive, but still, tourists love to spend money on buying this.
Is Sand Art Easy?
Well, sand art is not easy, it is one of the most challenging forms of painting. Professionals need a lot of work to do on this because a minor mistake can ruin the whole image. They have to make all the sculptures again, which is as tricky as it sounds.
What kind of sand?
For sand art bottles, if you want a semi-permanent sand sculpture, then professionals use sand origination from river sand with angular grains mixed with the fraction of salt and clay.
Safe The Sand In The Bottle
If you want to save the sand in the bottle, you might need melted candle wax to seal the sand art, and it is one of the best options. Simply you need to pour it over the top and as well as the very end of your jar and give it rest until it becomes hard. Now you can easily take it to your home without any damage.
Filling The Sand Bottle
Filling the sand bottle needs a lot of practice, as we discussed that one single mistake in making a sand art bottle means making that sad art again. So it requires a lot of practice. While the professional is filling the bottle, they place a funnel in the mouth of a bottle. Now they will pour a small amount of one color sand until it creates a visible layer at the bottom of the layer. They make sure that they won't move the bottle while the layering of sand is made.
Read More About Sand Art Bottles
Quad Biking: Do's And Don'ts
Dubai is no doubt the favorite destination for tourists from all over the world. It is said that 14 million-plus tourists visited Dubai city in 2019. Consequently, Dubai is one of the most popular destinations in the world. Numerous activities are the center of attraction for the tourists. One of the most favorite activities is "Quad biking". The tourist can choose their favorite quad biking experience, so get yourself ready for the amazing experience of quad biking.
Quad Biking Experience
While you are in the desert and you want to experience quad biking, enjoy the steep hills, ups, and downs of the desert while you are riding an amazing quad bike. Suppose you don't know how to ride a quad bike, no worries at all. Our professional guides are well trained and are fluent in speaking English. The guides are well experienced, and the safety of the tourist is their utmost responsibility. You can choose the automatic quad bike over the dune buggy. Our guests are very important to us; therefore, our bikes are well maintained, safe, ad easy to use. But, if you are below the age of 15, you are not allowed to ride the bike alone unless any elder is with you.
Do's And Don'ts of Quad Biking
While you are on the quad biking experience, here are some do's and don't s that need to be remembered.
Do's for Quad Biking
Get Training
If you have no experience of how to ride a quad bike and you are a quad biker lover, don't worry. There are many places for motorbike rental in Dubai where you can get training for the amazing ride.
Do Bring Your Skincare
Do bring your cares like sunscreen, sunglasses, hats, and sanitize-rs so that you may avoid the risk of sunburn.
Wear a Helmet
While riding a quad bike, you must wear a helmet to avoid any kind of injury. You must make sure that your stuff is all set and secure.
Do Bring Medicine
Bring medicines for motion sickness, as many tourists might be feet sick after a fun-filled quad biking, so it is better to keep the mandatory medication with you.
Dress Code
A fun-filled experience requires your full attention so that you can enjoy the ride or any other activity. Therefore you must need to be dress-up according to your comfort zone. It is better to wear loose clothes, and you must wear closed-toe shoes or long boots.
Don'ts For Quad Biking
Don't Overeat
Don't let your tummy full before the quad bike experience as it might result from nausea. So it is better if you take a small meal or don't eat 3-4 hours before the experience.
Don't Over-Speed
Do not let your bike speed over the limit as it might result in some serious injury, or you might get off the track.
Don't Leave Kids Alone
Make sure you must not leave the kids unattended. Kids under 16 years must ride with their elders so they might not get themselves hurt.
Don't Bring Important Stuff
It is a request from the management not to bring your important stuff like a passport, jewelry, bank cards, etc. If you lose them while on a desert safari, the management is not responsible.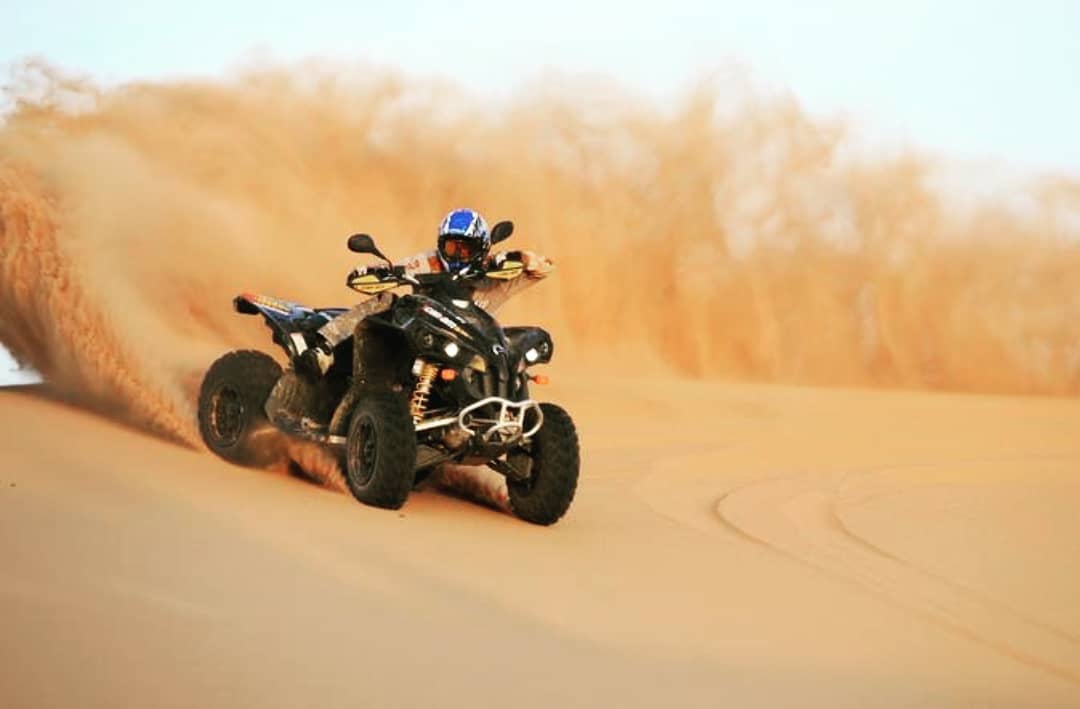 Things You Shouldn't Do During Dubai Desert Safari
Desert safari is a fun-filled experience that is overall of 4- 18 hours. In this time frame, every second is full of adventure. So here are some points to remember that you must not do while you are on a desert safari.
Don't Overeat
Make sure that you don't overeat before going on a desert safari experience. Doing so, you might get sick and not enjoy the adventurous, fun-filled experience. Also, make sure not to eat spicy food. Eat one hour before going to the desert.
Don't Forget To Pack Proper Clothes
As you are in the desert, and enjoying the perks of desert safari, what if your dressing is not complete and according to the weather? So don't forget to pack your clothes properly, as the day in the desert is hot but the nights of the desert are cold, and sometimes the breeze is like freezing. So you might require jackets, shawls, and jackets, so don't forget to carry them along with you.
Don't Forget To Keep Yourself Hydrated
 As you are in the desert and the weather is hot, you need water. By this, we mean plenty of water, so you might not get dehydrated.
Don't Travel Alone
 It is better if you travel with your friends or with a family member because you might enjoy yourself more with their company of them. It is beneficial as you might be taking care of each other. You can feel safe, and even it would be helpful to share the stuff if you require something.
 Don't Carry Expensive Things
Desert safari is an experience that is performed under the sky where you can see Bedouin-style camps, where one after another, thrilling adventures are waiting for you. So it is a request to the valued customer who does not bring expensive luggage with them as there are no lockers and no place to keep them safe.
 Don't Book At The Eleventh Hour
Usually, people have a conception that late bookings will give them a better opportunity and good packages, but that is not true at all. Late bookings might make you disappointed for not getting a chance to enjoy the Desert Safari.
Don't Touch Plants And Animals In The Desert
While you are exploring the desert, try not to touch plants and insects unnecessarily. They might look harmless, but they could be dangerous and might be risky. Therefore it is better not to touch them. It is better to be safe in the desert.
Conclusion
Desert safari is a combination of fun, thrill, adventure, exploring, and knowing the living of old Arab people. But now it has been the most favorite experience among tourists from all over the world. They opt for the desert safari so that they can enjoy dune bashing quad biking. The tourists can witness the national bird of the UAE by holding them in their arms. They can see how the camels run in the vast desert. In short, Dubai Desert Safari is a complete package to enjoy your vacation in Dubai.
We hope that this article will benefit you in many ways and will be helpful at the same time. Dubai, no doubt, is the best place to enjoy your holidays, to have quality time with your loved ones as well. This is the main reason people from all over the world choose this city to explore and enjoy their honeymoon.