I have complained before that South America was not really the culinary paradise that Asia was. There were some highlights though. Some really incredible restaurants with memorable, not always cheap, but delicious food.
Quito, Ecuador: Baalbek
We were originally trying to hunt down a Vietnamese restaurant I'd read about on TripAdvisor when we stumbled on Lebanese instead. The spacious restaurant was empty for lunch and the owner himself came out to greet us. When he heard I was from DC he asked if I'd been to Lebanese Taverna, which is actually about half a mile from my house and a favorite restaurant of my mom.
As we sat and chatted delicacy after delicacy came out: tabbouleh, falafels, kafta, grape leaves and hummus (hummus may be my favorite food of all time).
Buenos Aires, Argentina: La Cabrera
We loved this place so much that we went three times! We were first introduced by Meg and Tony of Landing Standing, who told us about the restaurants popular happy hour special: if you arrive at 7 pm, you can eat for half price. Everything on the menu half price- it has to be one of the best deals in town.
La Cabrera is a traditional Argentine steak house, and it serves up enormous cuts of meat with no fanfare. The bife de chorizo smothered in blue cheese was a favorite.
Montevideo, Uruguay: Parilla in the Central Market
Argentina is famous for its meat but the barbeque in Uruguay manages to be even more extraordinary. With some new friends from our hostel, we ordered a Parilla, a selection of grilled meats. Out came a platter piled high with dozens of cuts of cow, all grilled to perfection, along with grilled red peppers. We ate every single morsel of flesh. My stomach hurt from so much meat but I could not stop eating.
Cruise along Dubai Creek, dine onboard and enjoy the music. During the cruise, you will enjoy the spectacular modern architecture and the fascinating old city. You will be picked up from your hotel to the Creek to join Danat modern boats or the traditional wooden vessel. At the end of the cruise, you will be transferred back to your hotel. This trip will be approx. 3 hrs
Dhow Cruise Dubai An exquisite trip to the wonderful Dubai Marina
The Marina Dhow provides an entirely different view of this remarkable city – a representation of the new developments of Dubai and the 8th wonder of the world, The Palm Islands.
Dubai Marina Dhow Cruise   with Dinner Includes:
Romantic ambiance at our dhow while cruising & dining aboard
Welcome nonalcoholic drink on arrival
Two hours cruising
Two-tiered Dhow
Fully Air-conditioned lower deck and open-air upper deck
Sumptuous International & Asian buffet dinner
Unlimited soft drinks, mineral water, tea and coffee
Soft music entertainment – Arabic, English and Hindi music.
Live Belly Dancing Show (Except Ramadan).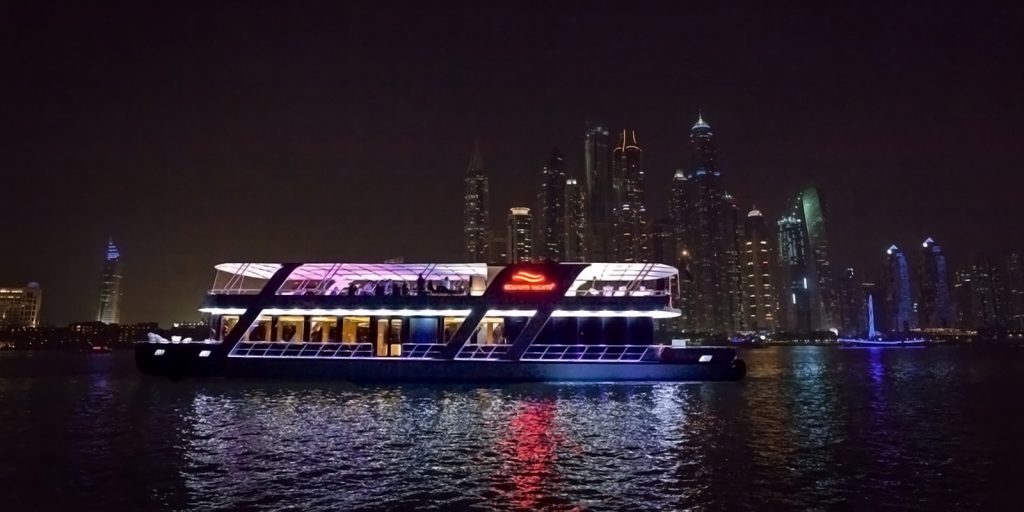 Dubai Marina Dhow Cruise with Dinner Description :
We are presenting a 2 hours Dinner Cruise from 8:30 PM until 10:30 PM everyday along Dubai Marina and the Palm Island. Our Dhow is located on the west side of Dubai Marina Yacht Club. After departing from Dubai Marina Yacht Club, we will be cruising the Dubai Marina channel with the Dubai Marina on one side and the Jumeirah Beach Residences on the other side. You will have amazing views of all the attractions and landmarks in that area. Then, we will enter the Palm Island where you will be able to see the buildings and villas of The Palm Island as well as the Atlantis Hotel on one side and the beach resorts on another side. The Burj Al Arab Hotel will also be visible across The Palm. It's also available on private charters and corporate events.
Dubai Marina Dhow Cruise Dubai Safety Features:
The Dhow has qualified captains, crew and is equipped with navigation compass, fire extinguishers, First Aid Kit and life jackets.
Dubai Marina Dhow Cruise with Dinner Vital Information:
Duration: 02 hours cruise
Days of operation: Daily
Age: All Ages
Minimum Number: 01 and other participants will join you in this experience
Timings: Cruising Commencing 8:30 PM, Concluding 10:30 PM (Multi-location pick-up and drop back on seat sharing basis)
Exclusions: Gratuities optional
Buenos Aires, Argentina: Cocina Sunae
I loved this southeast Asian private restaurant so much that I wrote an article dedicated to it. If I were back in Buenos Aires for a weekend I would make it a priority to visit again. It's a nice alternative to the endless steak dinners and as close as you're possibly going to get to legitimate Asian food in South America.
Santiago, Chile: Zabo
I'm only a recent sushi convert but I can recognize quality when I see it. Zabo was the real deal, with super fresh fish and creative yet delicious rolls. We went twice during our week in Santiago and made it our last meal in South America.
So what do you think? You can taste all of these meals yourself with just a quick flight to South America (have a look on FlightNetwork right now and maybe we can have dinner together!).