A desert safari is an event that happens on the outskirts of Dubai. A lot of things need to be figured out before going there, and one of these things is packing an appropriate dress. One thing before going there is to remember that Dubai is so far a non-conservative city of UAE, but modest clothing is still encouraged.
Dress According To the Weather at Desert Safari
Dubai is one of the hottest cities in the world. So don't even think of packing something that will make you sweat the second you put it on, no matter how cute you look in it. Wear light and airy dresses that will help your skin breathe and make you look good at the same time. Wearing sundresses, long beach gowns, and light cotton shirts are the best choices. They will make you look really good as well as avoid excessive sweating (and stinking of it). Also, avoid bright colors. Wear dim colors that don't look too sharp in the sun. Colors affect the way you feel more than you think. However, it is really cold at night so make sure to pack a jacket or a sweater only to warm yourself up at night.
Wear Traditional Dresses Of Arabs:
Traditional, Arabic dresses are really beautiful and light. For men, plain white thobe looks simple and elegant in such hot weather. For women, a lot of loose, stylish gowns are available in cotton or lawn material to allow the body to breathe. It is obviously up to you what to wear according to your preference and comfort, but it won't be a bad idea to opt for traditional Arabian dresses there.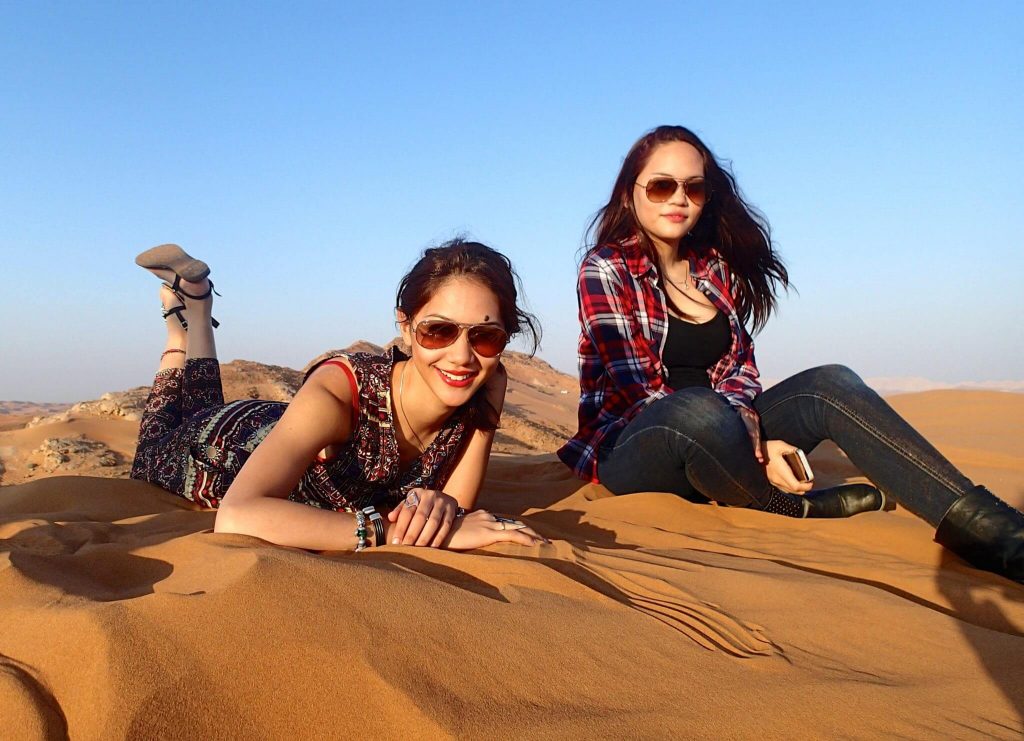 Let Your Feet Breathe:
As much as it's important for you to dress light and allow your body to breathe, we often forget that our feet as just as important to breathe and feel light. Do not wear closed shoes, like joggers, sneakers, or full pumps. Wear sandals if necessary and allow your feet to feel the air. It will already be very hot there, so wearing closed shoes for a long time will cause warts and other fungal infections. Be safe, and be comfortable while you have fun.
Pack Light: 
Last but not the least, pack light. There is no need to pack huge stacks of clothes of different materials and designs just for the sake of it. You are most likely to get dusty by playing in the sand, so pack only the essentials, like a pair of cotton shirts and pants, an extra pair of sandals since you are most likely to break one if you're into physical activities. Light maxis are easier to pack and don't weigh at all, so make sure to wear that. You'll stay comfortable and stylish all day. For men, thobes and cotton shorts and shirts are your best friends. 
Last Words:
So, here are the following options that you may consider while opting for dresses to wear on a Desert Safari in Dubai.